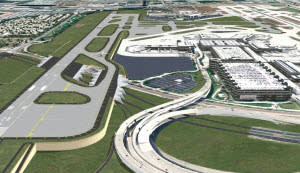 DATE: February 25, 2014
MEDIA CONTACT: Ellen Kennedy, Director/Communications
Port Everglades Business Development
PHONE: 954-468-3508
EMAIL: ekennedy@broward.org
MEDIA CONTACT: Gregory Meyer
Public Information Officer
Broward County Aviation Department 
PHONE: 954-359-6116
EMAIL: gmeyer@broward.org

Air-sea travelers will find Port Everglades even more convenient when a second runway at neighboring Fort Lauderdale-Hollywood International Airport (FLL) opens September 2014. The new 8,000-foot runway will help improve flight times and reduce delays at FLL, which is one of the fastest growing airports in the country and a major hub for low-cost domestic carriers. In addition, FLL's Terminal 4 will expand from 10 to 14 gates, with increased concession choices for passengers. 

"Our airport and seaport are within two miles of each other, which is wonderful for cruise passengers who can take advantage of discount air fares and short rides to their cruise ships," said Broward County Mayor Barbara Sharief. "It is also a wonderful advantage for our residents who benefit economically through job creation and retention." 

The number of cruise passengers is expected to reach 4 million during 2014. More than 23 million passengers passed through FLL in 2013, and of those passenger, an estimated 15 percent were going on a cruise out of Port Everglades. 

"The combination of a world-class seaport and an international airport located in a popular vacation destination make Broward County a terrific choice for travelers," said Broward County Vice Mayor Tim Ryan, whose district includes Port Everglades and FLL. 

Port Everglades and Fort Lauderdale-Hollywood International Airport are self-supporting Enterprise Funds of Broward County government.

FLL is ranked 21st in the U.S. in total passenger traffic and 13th in domestic origin and destination passengers. There are more than 300 departure and 300 arrival flights a day. FLL offers nonstop service to more than 100 U.S. cities and international service to Canada, Bahamas, Caribbean, Mexico, Latin America and Europe. 

Port Everglades is one of the three busiest cruise ports in the world with nearly 4 million passengers expected in 2014. Eight cruise lines, one ferry and more than 40 cruise ships sail from the South Florida seaport including: Balearia's Bahamas Express, Carnival Cruise Lines, Celebrity Cruises, Cunard Line, Holland America Line, Princess Cruises, Royal Caribbean International, Silversea Cruises and Seabourn. The Port's wide-ranging fleet of cruise ships provides guests with an array of cruise vacation choices from the sunny Greater Fort Lauderdale area. Port Everglades, where the best cruise ships launch and the greatest getaways begin. View details on the latest cruise offerings at porteverglades.net or contact us by emailing PortEverglades@broward.org.