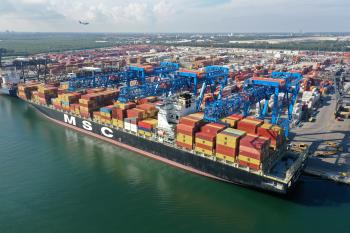 BROWARD COUNTY, FL - Port Everglades exceeded its record May and June cargo volumes thanks to new ocean shipping services from India, Turkey and Greece.
"Unlike the downturn that we typically experience at the end of our busy melon season, we had a spike in May and June because of the new Mediterranean Shipping Company (MSC) services from South Asia and the Mediterranean," said Port Everglades Chief Executive and Port Director Jonathan Daniels. "We are on track to shatter our annual record from 2018."
In May 2022, Port Everglades recorded 97,502 TEUs (20-foot equivalent units, the maritime industry's stand container measurement), up 4 percent over the Port's former record set in May 2015. Containerized cargo volumes jumped 5 percent in June 2022 over the former record set in June 2018, with 94,106 TEUs.
About Port Everglades
A global gateway for international trade, Port Everglades handles an average of one-million TEUs annually and serves as a gateway to Latin America, the Caribbean, Europe and now India. 
Located within the Florida cities of Fort Lauderdale, Hollywood, and Dania Beach, Port Everglades is in the heart of one of the world's largest consumer regions, including a constant flow of approximately 112 million visitors statewide and 6 million residents within an 80-mile radius. Port Everglades has direct access to the interstate highway system and the Florida East Coast Railway's 43-acre intermodal container transfer facility, and is closer to the Atlantic Shipping Lanes than any other Southeastern U.S. port. Ongoing capital improvements and expansion totaling $3 billion within the next 20 years ensure that Port Everglades continues to handle future growth in container traffic. 
More information about Broward County's Port Everglades is available at porteverglades.net or by calling toll-free in the United States 1-800-421-0188 or emailing PortEverglades@broward.org.
July 21, 2022
MEDIA CONTACT: Ellen Kennedy, Director
External Affairs and Cruise Services
954-468-3508 (o) 954-868-0220 (m)
ekennedy@broward.org