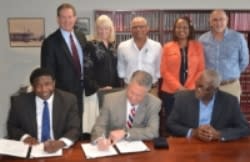 BROWARD COUNTY, FL – Broward County's Port Everglades has entered into a Memorandum of Understanding (MOU) with the Port of Limón, Costa Rica, as part of its International Sister Seaport Program. Costa Rica is the Port's eighth largest trading partner by volume.
Broward County Commissioners Chip LaMarca and Dale V.C. Holness, who recently completed an Enterprise Florida-led trade mission to Costa Rica, signed the MOU on behalf of Port Everglades.
The MOU outlines joint initiatives the two parties will undertake and states that it is within "their mutual interest to establish an alliance of cooperation aimed at facilitating international trade and generating new business by promoting the all-water routes between" the two ports.
Key joint initiatives include:
Marketing activities
Market studies
Modernization and improvements
Training
Following the signing, Port Everglades and representatives from the Costa Rica, JAPDEVA (Junta de Administración Portuaria y de Desarrollo Económico de la Vertiente Atlántica) discussed opportunities for information sharing and took a port tour.
Port Everglades has International Sister Seaport agreements with four seaports in Europe, Asia, and South America, and a Memorandum of Understanding with the Panama Canal Authority and now the Port of Limón, Costa Rica. The International Sister Seaport Program encourages new business and trade between the seaport organizations. The four agreements are with the Port of Olbia, located on the Italian island of Sardinia, the Port of Xiamen in China, the Port of Marseille, France, and the Docas do Rio (Rio de Janeiro Port Authority), in Brazil. 
To become a Sister Seaport with Port Everglades, a seaport must commit to the free exchange of information pertaining to cruise and cargo operations, statistical information and general market research. For more information, please contact us by email at PortEverglades@broward.org. 
About Port Everglades
As one of Florida's leading economic powerhouses, Broward County's Port Everglades is the gateway for international trade and cruise vacations. Consistently ranked among the top three busiest cruise ports in the world, Port Everglades is also one of the nation's leading container ports and South Florida's main seaport for receiving petroleum products including gasoline, jet fuel and alternative fuels. The Port Everglades Department is a self-supporting Enterprise Fund of Broward County, Florida government with operating revenues of more than $163 million in Fiscal Year 2017 (October 1, 2016 through September 30, 2017).  It does not rely on local tax dollars for operations. The total value of economic activity related to Port Everglades is nearly $30 billion. More than 222,000 Florida jobs are impacted by the Port, including almost 13,000 people who work for companies that provide direct services to Port Everglades.  For more information on Port Everglades, go to porteverglades.net  or email PortEverglades@broward.org.
About JAPDEVA
The Board of Port Administration and Economic Development of the Atlantic Coast (JAPDEVA), created by Law No. 3091 in February 18, 1963 is an autonomous entity of the State, with the character of Public Utility Company, which assumes initiatives and functions of the Port Authority in Costa Rica, is in charge of building and managing the ports of Limón and Moín where more than 80 percent of Costa Rica's international maritime trade is mobilized. According to the ECLAC ranking on ports, JAPDEVA is in the 12th place in movements of containers with 1,300,000 TEUs and more than 116 arrivals of cruise ships.
DATE: April 24, 2018 
MEDIA CONTACT: Maisy Alpert 
Business Development Division/Communications 
PHONE: 954-468-3505 
EMAIL: malpert@broward.org
Photo Caption: (L-R seated): Broward County Commissioners Dale V.C. Holness and Chip LaMarca, and Armando Foster Morgan, Executive Vice President, Board of Port Administration & Economic Development of Atlantic Slope (JAPDEVA). (L-R standing): Jim Pyburn, Port Everglades Director of Business Development, Peg Buchan, Assistant Port Everglades Director, Greivin Villegas, Engineering Division, JAPDEVA, Sharon Jones, Manager of Marketing& Promotion, JAPDEVA, and Luis Vargas, Director of the Engineering Division, JAPDEVA.