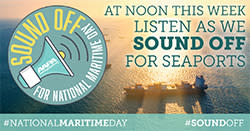 BROWARD COUNTY, FL - Port Everglades will participate in the American Association of Port Authorities (AAPA) "Sound Off for National Maritime Day" initiative this week with vessels blowing their horns every day at noon from May 18-22. This year's National Maritime Day tribute recognizes the mariners, the maritime industry, ports and their workforces, vessels in harbors and at berth, for the role they are playing in the COVID-19 response and recovery, supply chain continuity, and long-term economic stability as they work to move goods across the globe.
"Port Everglades, and our entire port community, has worked tirelessly during the COVID-19 Pandemic to keep the many goods moving through the port to support grocery stores, gas stations, retail stores, construction projects, and the overall economy," said Glenn Wiltshire, Acting Chief Executive and Port Director. "Most people are unaware of the impact seaports have on their daily lives. Ninety percent of goods and services used in the United States travel through seaports such as Port Everglades."
Throughout the COVID-19 Pandemic, Port Everglades has remained open to serve our community and region.
According to IHS Markit's GTA Forecasting, combined international sea trade moving through Western Hemisphere seaports in 2018 totaled nearly 4.2 billion metric tons in volume and $3.7 trillion in value. Of that combined total, U.S. seaports handled 1.01 billion metric tons of international trade valued at $1.95 trillion.
In the U.S. alone, more than 652,000 maritime-industry professionals work every day to ensure that cargo and cruise and ferry travelers move efficiently through the nation's ports. Through passenger and crew screenings, vessel quarantines and other measures, seaports are committed to 'flattening the curve,' both domestically and among their country's critical trade partners around the world.
"Port workers and their logistics partners are laboring around the clock to keep us all supplied with vital consumer goods, medical equipment, energy and raw materials," said Chris Connor, AAPA president and CEO. "While taking all necessary precautions against spreading the virus themselves, our maritime workforce continues to deliver vital goods and services, ship exports, and connect farmers, manufacturers, retailers and consumers to the global marketplace."
Between May 18 and May 22, Port Everglades will be spreading community awareness about the Sound Off for National Maritime Day event. We are encouraging the community to use the following hashtags on their social media pages #NationalMaritimeDay, #SoundOff and #SeaportsDeliver to join in on the celebration in observance of National Maritime Day.
About Port Everglades
As one of Florida's leading economic powerhouses, Broward County's Port Everglades is the gateway for international trade and cruise vacations. Consistently ranked among the top three busiest cruise ports in the world, Port Everglades is also one of the nation's leading container ports and South Florida's main seaport for receiving petroleum products including gasoline, jet fuel and alternative fuels. The Port Everglades Department is a self-supporting Enterprise Fund of Broward County, Florida government with operating revenues of almost $170.7 million in Fiscal Year 2019 (October 1, 2018 through September 30, 2019). It does not rely on local tax dollars for operations. The total value of economic activity related to Port Everglades is nearly $32 billion. More than 219,000 Florida jobs are impacted by the Port, including 13,037 people who work for companies that provide direct services to Port Everglades. For more information on Port Everglades, visit porteverglades.net or e-mail PortEverglades@broward.org.
DATE: May 18, 2020
MEDIA CONTACT: Maisy Alpert, APR
Port Everglades Business Development/Communications
PHONE:  954-468-3505 or cell 954-213-9095
EMAIL: malpert@broward.org