Portwide Bulkhead Replacement
To accommodate the new generation of cruise vessels and future channel and berth deepening, Port Everglades will undergo a systematic replacement of existing aged bulkheads at strategic berths throughout the Port's waterfront from Northport to Midport. New seawall and bulkhead walls will replace existing walls that are near the end of their service life. Bulkhead replacement will be completed in phases and will consist of the installation of a new bulkhead system placed waterward of the existing inclusive of new steel sheet piling with concrete caps, new dockside mooring bollards, and new dock fenders. Replacement will also include upgrades to existing dockside utilities, apron pavement, and drainage improvements as well as a cathodic protection system.
Bulkhead replacement projects include the North Seawall of the Port's Entrance Channel; the bulkheads along Northport Berths 1-3, including 1A – 1D; Berths 7, 8, and 8A; as well as the bulkheads along Midport Berths 16, 17, 18, 21, 22, and 29.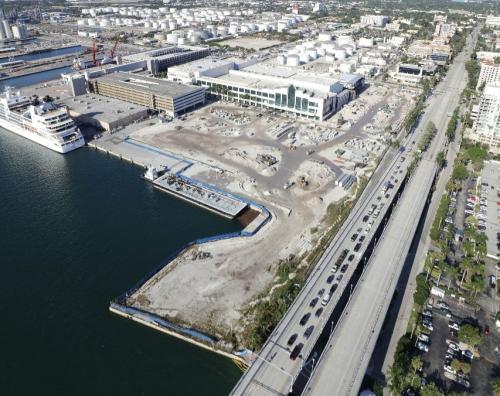 Existing North Bulkhead Seawall (April 2021)
| | | |
| --- | --- | --- |
| Schedule | Start Date | End Date |
|  Design/Permitting (Group 1) | July 2021 | March 2023 |
|  Construction (Group 1) | August 2023 | September 2025 |
|  Design/Permitting (Group 2) | TBD | TBD |
|  Construction (Group 2) | TBD | TBD |
invalid widget [plugins_collections_template_custom_imagebox] [custom_imagebox]