Crane Infrastructure Improvements
To meet the demand for increased cargo, Port Everglades is adding six new Super Post-Panamax Gantry Cranes and upgrading existing cranes to serve new and existing Southport container berths.
New Cranes
The first three Super Post-Panamax Gantry Cranes were manufactured by Shanghai Zhenhua Heavy Industries Co. Ltd. (ZPMC) in China at a cost of $41.4 million. They arrived at Port Everglades in November 2020, and have been in service since March 2021. The final three cranes are expected in Late 2023 and will be put into service in Early 2024.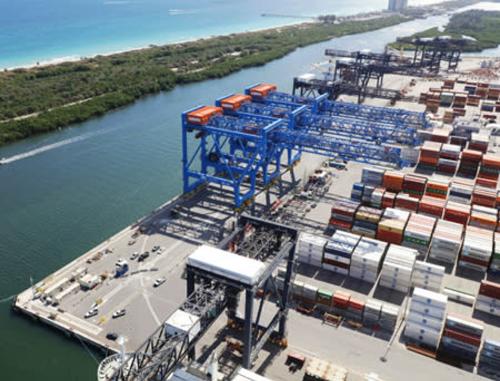 Super Post-Panamax Gantry Cranes (April 2021)
| | |
| --- | --- |
|  Reach & Lift |  22 Containers Wide, 7 Containers High on Deck |
|  Backreach |  35 Feet/10.6 Meters with Boom Fully Extended |
|  Capacity |  65 LT/66 MT (Long Tons = 2,240 pounds) |
The $77.5 million Existing Crane and Infrastructure Improvements Project – Started Spring 2018
Upgrades to the existing infrastructure includes:
3,500 L.F. of new 120' (36.5m) Gauge crane girders and rail for new ZPMC cranes
1,500 L.F. of new 100' (30.5m) Gauge crane girders and rail for existing Samsung cranes
Add/Upgrade Stowage pin and tie-down anchors
13.2 kV power distribution infrastructure for new cranes
1.3 Miles of new 13.2 kV FPL Feeder Ductbank
New crane power switchgear and office building
Repave wharf surface
Existing cranes enhanced to handle heavier loads, including twin-picks
Existing Gantry Cranes
(April 2021)

Crane Infrastructure Improvements (December 2023)
| | | |
| --- | --- | --- |
| Schedule  | Start Date | End Dade |
|   Construction(Crane Infrastructure) |   Feb. 2018 |   Dec. 2023 |