Visitor Access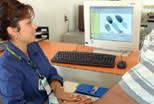 Welcome to Port Everglades Where Security is Everyone's Business
The following rules and regulations must be followed while on the premises of Broward County's Port Everglades:
All visitors must be invited guests of a specific Port Everglades business, tenant or agency.
Visitors shall be authorized access only to the area specific to their port business. Unauthorized roaming through the port is prohibited.
Visitors must present valid government-issued photo identification (such as a current driver's license or passport) and comply with periodic vehicle screening at the Security Checkpoint upon arrival.
Visitors, with the exception of ticketed cruise passengers and Convention center guests, will obtain Visitor ID badge issued by the Broward Sheriff's Office at one of the checkpoints upon entry to the port. The Visitor ID badge is self-expiring at 23:59 on the date received.
Visitor ID badges must be affixed to the upper, outer garment and clearly visible at all times.
At all checkpoints, visitors will receive a placard to be placed on the vehicle's mirror – unobstructed and visible – for inspection.
Do not leave vehicles unattended in "No Parking" zones, fire lanes or passenger drop-off areas.
Visitors entering a Restricted Area must display a port-issued visitor badge and be escorted at all times by an individual with a restricted area badge for that location and a Transportation Worker Identification Credential (TWIC).
While on Port Everglades property, all persons are subject to local, state and federal regulations.
Report any suspicious activity to Broward Sheriff's Office at Port Everglades 954-765-4511.

Security Checkpoint Hours
Checkpoint 1 (Eller Dr./I-595): 24/7
Checkpoint 2 (State Road 84/Spangler Blvd.): 6 AM - 10 PM
Checkpoint 3 (SE 17th St./Eisenhower Blvd.): 6 AM - 10 PM
Checkpoint 4 (McIntosh Rd.) 24/7
Weapons Prohibited
Under Florida State Statute 311.12 (4)(c),possession of concealed weapons and other contraband material on the premises of the seaport is prohibited. Any person in a restricted area who has in his or her possession a concealed weapon, operates, or has possession or control of a vehicle in or upon which a concealed weapon is placed or stored, commits a misdemeanor of the first degree, punishable as provided s.775.082 or s.775.083.
July 1, 2006, Florida passed a new Seaport Security Law and within this law there were several changes. One change regards the possession of weapons on Seaports. The changes in the law made it unlawful to:
Possess a weapon on a seaport
Keep a weapon in your vehicle on a seaport.
Weapons (to include firearms):
Concealed knives
Billie clubs
Tear gas
Chemical weapon or device
Any other items used for the purpose of causing death or injury to another
Persons exempt from this law:
Active-duty certified federal or state law enforcement personnel OR persons so designated by the seaport director in writing.
Persons requesting a waiver of this law must do so in writing to the Port Director. A form to make this request is available through the Broward Sheriff's office or the Port Everglades Security manager. These requests must include a copy of your State of Florida Concealed Weapons/Firearms permit and written explanation from your employer indicating a legitimate need for you to possess a weapon as a part of your employment on the seaport.