parking
Currently, Port Everglades does not accept reservations or pre-payment for parking. The Port has secured parking facilities for cruise guests with two parking garages (nearly 4,000 spaces) and several surface lots.
The Port also provides special limited parking for over-sized vehicles, including RVs, trailers and other vehicles that are taller than the maximum height for accessing the upper floors of our parking garages. Call SP Plus Parking at 954-468-3680 for more details.
Convenient parking facilities for our cruise passengers are:
Well-illuminated
Secure
Ample disabled parking with unimpeded access to crosswalks and elevators. Visit the Disabled Parking page for further details.
Parking Fees (garages and lots)
$15 daily maximum
$19 daily maximum for over-sized vehicles (*)
$3 for 0 -1 hours
$6 for up to 5 hours, and then $1 per hour thereafter up to daily maximum
All daily rates begin when you pull the parking ticket from the machine at the garage or parking lot.
For parking questions or emergencies, contact SP Plus Parking at 954-468-3680.
Heron Parking Garage
The 1,818-space garage services:
Cruise Terminal 2 (an air-conditioned elevated passenger bridge with moving sidewalks connects Terminal 2 and the Heron Garage, and is accessed from the 5th floor of the Heron Garage or the elevators on the outside of Cruise Terminal 2)
Follow the orange directional signs featuring a flying Heron from any of the Port's entrances. 
Palm Parking Garage
The 1,966-space garage services: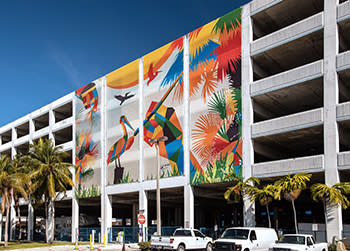 Shuttle service is provided between Cruise Terminal 29 and the Palm Parking Garage
Follow the green directional signs featuring a palm frond from any of the Port's entrances. 
Surface Lots
Parking Lot# 18 has its own 600-space surface parking lot adjacent to the terminal.

Parking Lot #19 is a 400-space surface parking lot located between Cruise Terminals 18 and 19. The entrance is on SE 19th Street.