Perishables
Port Everglades is the state leader in perishable throughput, moving nearly half of all the ocean shipped refrigerated containers in Florida. Volumes continue to climb. A revised cold treatment program that allows once-restricted grapes and blueberries from Peru and Uruguay to come into South Florida ports is working well and has been expanded to include citrus from Peru and apples and pears from Argentina. In the revised program, fruit is now shipped directly to South Florida for delivery to local grocery stores faster and at a lower cost than shipping through traditional Northern ports. It also provides opportunities for ocean-to-air transshipment.
Key factors affecting perishables:
Reducing time-to-market = lower cost
Maintaining cold chain logistics = reduce loss
Optimizing shelf life = increase revenue and profit
---
Fresh Produce Coming to Port Everglades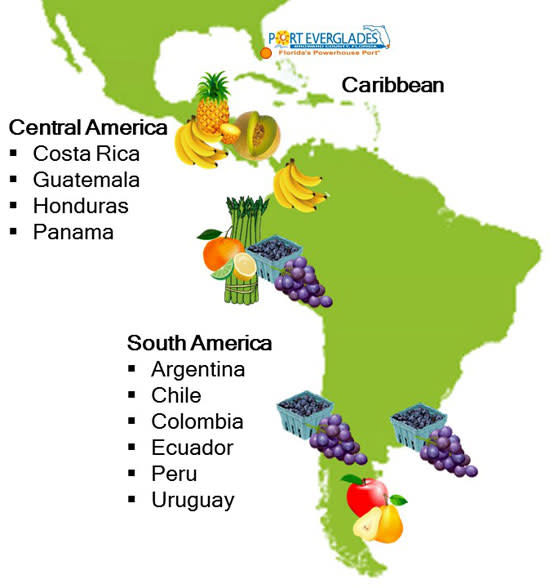 ---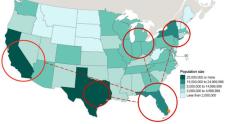 This is where your product wants to go to all the major markets across the country in a matter of day!
This is how quickly your product will get there!
Atlanta 48 Hours
Nashville/Memphis 72 Hours
70% of U.S. 96 Hours 
Port Services
Fumigation
F&F Fumigation
954-524-1133
HMAP Facilities
Crowley
954-760-7900
crowley.com
International Warehousing Services (IWS)
954-763-7551
iws1.com
Government Agencies
U.S. Department of Agriculture
954-356-7080
usda.gov
U.S. Customs & Border Protection
954-761-2000
cbp.gov
Florida Port FY2019 Refrigerated TEU Moves
---
| | |
| --- | --- |
| Port Everglades | 149,052 |
| Jacksonville | 119,428 |
| Miami | 83,701 |
| Manatee | 28,680 |
| West Palm Beach | 20,271 |
| Tampa | 7,985 |
| Panama City | 5,737 |
| Fernandina Beach | 159 |
| Pensacola | 109 |
Top 10 U.S. Refrigerated Ports FY2018 - TEU Moves
---
| | |
| --- | --- |
| New York, NY | 271,166 |
| Los Angeles, CA | 194,879 |
| Wilmington, DE | 168,193 |
| Philadelphia, PA | 160,364 |
| Oakland, CA | 160,343 |
| Long Beach, CA | 154,382 |
| Port Everglades, FL | 149,052 |
| Savannah, GA | 126,071 |
| Seattle, WA | 116,081 |
| Jacksonville, FL | 105,763 |
Transit Times
| | |
| --- | --- |
| County/Port | Transit Time |
| | |
| Argentina | |
| Buenos Aires | 24 Days |
| | |
| Caribbean | |
| Bahamas | 1 Day |
| Dominican Republic | 4 Days |
| Jamaica | 4 Days |
| | |
| Chile | |
| San Antonio | 17 Days |
| San Vincente | 15 Days |
| | |
| Peru | |
| Callao | 11 Days |
| | |
| Ecuador | |
| Guayaquil | 8 Days |
| | |
| Columbia | |
| Buenaventura | 6 Days |
| Cartagena | 3 Days |
| | |
| Honduras | |
| Puerto Cortes | 4 Days |
| | |
| Costa Rica | |
| Puerto Limón | 9 Days |
| | |
| Guatemala | |
| Santo Tomas de Castilla | 4 Days |
| | |
| Panama | |
| Manzanillo | 3 Days |