cruise terminal 25
2025 Eller Dr., Hollywood, Florida 33316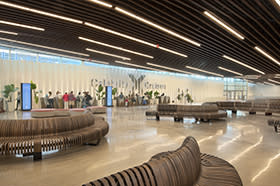 features:
Total Square Footage: 157,800 sq. ft.
Total Square Meters: 14,660 sq. m.
Baggage Laydown: 23,130 sq. ft./2,149 sq. m.
Passenger Waiting Area: 12,653 sq. ft./1,175 sq. m.
Simultaneous Embark/Debark
4 Elevators
6 Escalators
48 Check-In Stations
Free Wi-Fi
Secure, covered parking in the 1,732 spaces at Mid-Port Garage
Primarily used by Celebrity Cruises
Home to Celebrity Cruises' newest and most innovative ship, the Celebrity Edge and Celebrity Apex.
Public Art Installation:
Interactive Light Wall By Vanessa Till Hopper