BROWARD COUNTY, FL -- Port Everglades has promoted Christopher (Chris) Marchant to the role of Chief Harbormaster, guiding maritime services for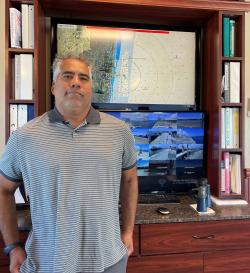 Broward County's multi-faceted 2,190-acre seaport.
Marchant has served as Assistant Harbormaster for Port Everglades since August 2021 and as Duty Harbormaster from May 2010. He was also a linehandler with Port Everglades for four years.
"Chris is a prime example of how we recognize talent from within the organization, which preserves valuable institutional knowledge and helps us deliver high quality services to our customers in the cruise, cargo and energy sectors," said Port Everglades Chief Executive and Port Director Jonathan Daniels.
Marchant earned a bachelor's degree in Business Administration from Southern New Hampshire University.
About Port Everglades
As one of Florida's leading economic generators, Broward County's Port Everglades is the gateway for international trade and cruise vacations. Consistently ranked among the top three busiest cruise ports in the world, Port Everglades is also one of the nation's leading container ports and South Florida's main seaport for receiving petroleum products including gasoline, jet fuel and alternative fuels. The Port Everglades Department is a self-supporting Enterprise Fund of Broward County, Florida government with operating revenues of almost $103.5 million in Fiscal Year 2021 (October 1, 2020 through September 30, 2021).  It does not rely on local tax dollars for operations. The total value of economic activity related to Port Everglades exceed $30 billion. More than206,000 Florida jobs are impacted by the Port, including 7,000 people who work for companies that provide direct services to Port Everglades.  For more information on Port Everglades, visit porteverglades.net or e-mail PortEverglades@broward.org.
September 6, 2022
MEDIA CONTACT: Ellen Kennedy, Director
External Affairs and Cruise Services
954-468-3508
ekennedy@broward.org